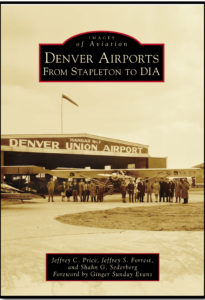 Stay tuned for our new book Images of Aviation – Denver Airports From Stapleton To DIA, due out October 22, 2018! This visual historical review of Denver's airports shares the struggle, controversies and accomplishments of how 3 airports evolved Denver from cow town to boom town.
If you are into aviation, airports and Colorado history, this book is for you! 
Publisher: Arcadia Publishing and The History Press
Save the date for October 22, 2018 for the official book launch of Denver Airports: From Stapleton to DIA by Jeffrey C. Price (Author), Jeffrey S. Forrest (Author), Shahn G. Sederberg (Author),
Now Available For Pre-Sale!!