Visit Leading Edge Strategies Training Programs to learn more about private team training programs.
 ________________________________________________________________
Certified Member Program – AAAE
Becoming a Certified Member (C.M.) is a great way to show employers your dedication to your airport career. The program is open to Affiliate, Associate, Participating, Corporate, Military and Academic Graduate members of AAAE and Affiliate, Associate and Corporate members of IAAE. Certified Member is a useful credential when seeking employment within the airport management profession and for students and corporate members who interact with airport professionals.
Location and Dates:
Denver, CO – July 14-19, 2019
Alexandria, VA – November 17 – 22, 2019
Airport Certified Employee (ACE) Security Course – AAAE
Designed to establish a general knowledge base for airport professionals working in the fluid security environment. The program is an extensive curriculum based on 49 Code of Federal Regulations (CFR) – 1500 Series: TSA Regulations and the ICAO Annex 17. The Course not only meets the TSA 1542.3 requirements for Airport Security Coordinators (ASC)* and alternate ASC's, but also builds upon the existing working security knowledge of aviation professionals. Take advantage of this unique program and earn your comprehensive security certification today. Designed for aviation personnel tasked with security responsibilities from the airport, air carrier, indirect air carrier and general aviation sectors. * If taking part in the self-study program, ASC certification does not apply. One must to take part in an ACE Security Review Course in order to be eligible for an ASC certificate.
Location and Dates:
Denver, CO – June 10 – 13, 2019 – Denver International Airport
Alexandria, VA – August 5 – 9, 2019
Aerodrome Certified Employee (IACE) Online Training
Location and Dates:
On Demand Training
The 7.5-hour online IACE course is available in English and Spanish in an unprecedented interactive format that the student can complete on his/her own schedule. Following a final test, successful candidates will be able to print the IACE certificate and use the IACE designation.
Private sessions are available. Visit our Services page for more information.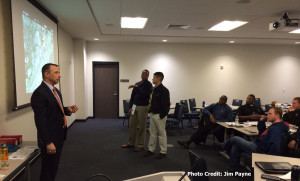 _________________________________________________________________________________
See Jeff Price's full bio on the AAAE website. 
"…it's obvious (that Jeff) has been doing this awhile and has a passion for teaching, and finding effective ways to prepare students.   While there was an incredible amount of information crammed into a week's time, the way the program/class was designed, presented and organized, and the methods Jeff used and encouraged us to utilize to prepare for the exam, were a huge help.    It was one of the better classes I have taken, and one that I actually enjoyed – which makes learning that much easier." – Brian L. Wayne County Airport Authority
_________________________________________________________________________________
"Thanks so much for your efforts this past semester…the CM exam was tough but thanks to your masterful "leading edge" teaching strategies, and wonderful way of making complex concepts easy to understand, I am now an AAAE A.M.!

I have to be honest, the test was very tough, and I had some doubt if I was successful, especially after falling four points short twice! You can imagine my surprise when I saw my score of 86.67! You helped me gain a plus 20 points!!!!

Thanks again, and please feel free to share this testimonial with anyone whom you feel may be encouraged!" – Lou S. Department of Aviation, Farmingdale State College
___________________________________________________________________________